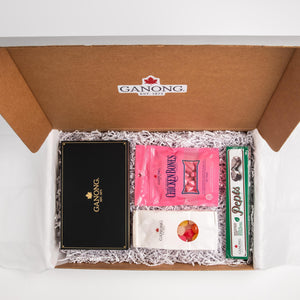 This Sweet Selections gift box will surely please any sweet lover. This gift is packed with our heavenly Dark Cherries, enclosed within our exclusive new Founder's box, and surrounded by Ganong classics.

What's Inside:

Dark Cherry Cordials (28 pieces) 
Chicken Bones Original (180g)
AB Gums (454g)
100g Pepts

By choosing the "Sweet Selections" for corporate gifting, you're making a statement of appreciation and professionalism. It's more than a gift; it's a gesture that conveys your commitment to building lasting relationships and creating sweet memories.