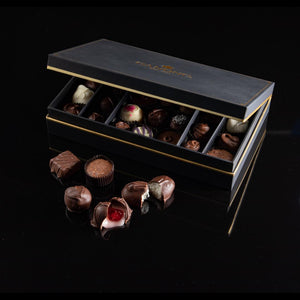 In celebration of our remarkable 150-year Anniversary, we proudly present the "The Founders Collection." This exquisite selection showcases the very best of our Artisan Crafted chocolates and Ganong Traditional Favourites, encapsulating a century and a half of love for quality and taste. Indulge in the following favourites specially curated for this momentous occasion.

What's Inside:

Peanut Butter Cups
Coconut Cups
Retro Yum Bars
Chicken Bone Truffles
White Lemon Truffles
Molasses
Dark Orange Truffle
White Blueberry Cheesecake
Dark Chocolate Truffle
Maple 
Coconut Truffle
Milk Truffle
Nutty Amaretto

Almontino
Mini Pals
Sea Salted Caramels
Dark Cherry Cordials
Fancy Almonds

(28 pieces)


This "The Founders Collection" is not just a box of chocolates; it's a celebration of our enduring dedication to chocolate crafting for 150 years. Share this remarkable journey with us and experience the best of our legacy. Order now to savour a piece of our history and the sweetest moments of life.